5 Advantages of Trailer-Mounted Vacuums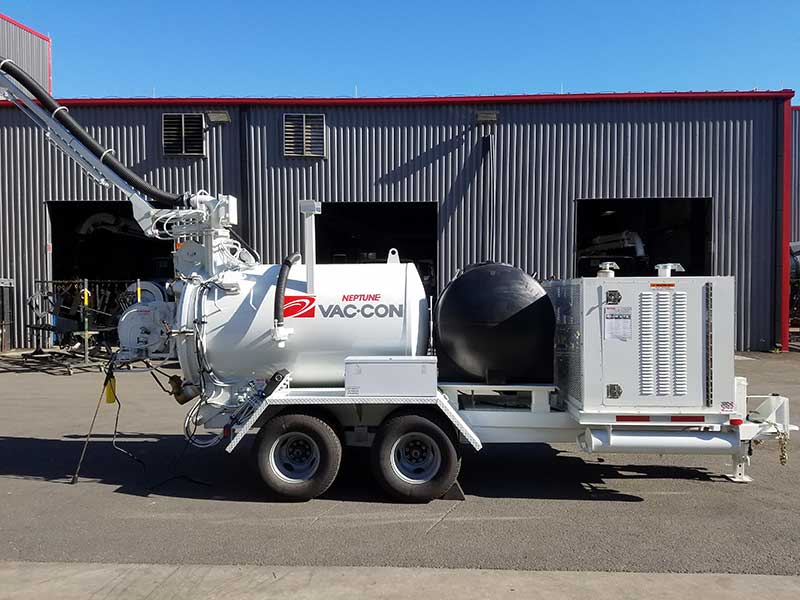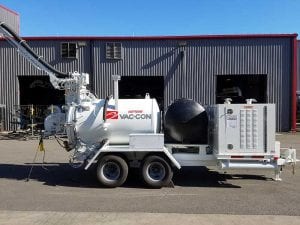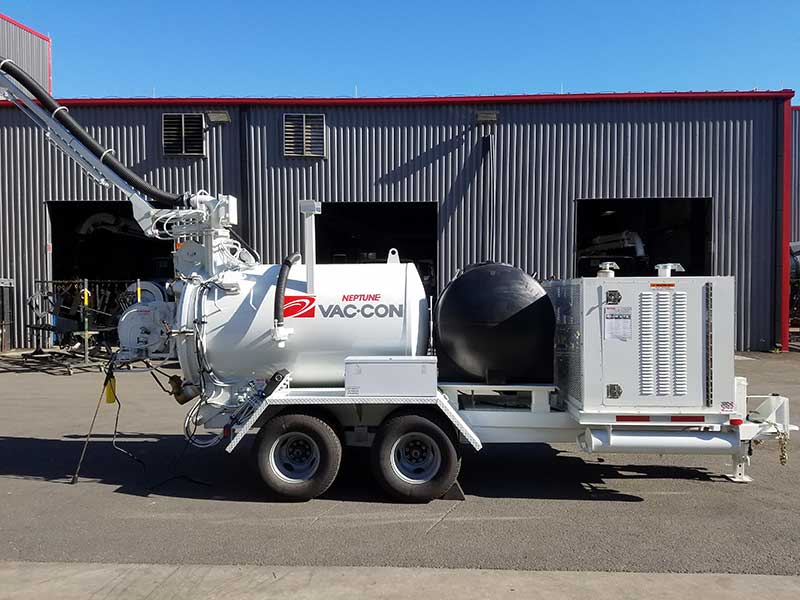 Trailer-mounted vacuum and hydrovac units are a portable, economical option for municipalities and contractors that are not in the market for a full-size truck unit. Similar in design and function, trailer-mounted combination and hydro-excavation machines are outfitted with the same powerful systems as their truck-mounted counterparts, but scaled to fit a mobile trailer and applications in reference to this size of equipment.
Trailer-mounted vacuum machines are used for removing oil, liquids, and solids from jobsites, daylighting and locating underground utilities, and safely excavating around underground utilities without causing damage.
Below are just some of the advantages of owning a trailer-mounted vacuum unit:
Economical
It's no surprise that the cost of a trailer-mounted unit is far less than that of a truck-mounted machine, but it is a key advantage to owning a trailer-mounted vacuum machine or hydrovac. Trailer-mounted units are especially ideal for new businesses, small contractors, or small municipalities that aren't in the market for a large machine – whether due to size or cost. These machines can still perform the same type of work as its truck-mounted counterparts, just to a different scale. In the long run, maintenance and upkeep is also more economical as there are fewer components.
Safe-Digging
Creating a safe jobsite for workers and by-standers is critical and a focus for many municipalities and contractors. The biggest risk for operators in this industry is active underground utilities such as gas and electric lines. When traditional yellow iron equipment is used to excavate in locations with underground utilities, the risk of hitting a line, causing damage, and potentially injuring the operator or others is increased. However, trailer-mounted hydrovacs are ideal for these environments, which are often found in compact, urban areas where truck-mounted units may not be able to comply. The high-pressure water and powerful vacuum functions are able to disrupt and remove soil around these lines without causing damage.
Time-Savings
Trailer-mounted vacuum and hydrovac machines offer operators flexibility and efficiency at the jobsite. Where other equipment may require site prep and utility locating, a trailer-mounted vacuum or hydrovac is able to quickly be placed and begin work removing debris and soil.
Additionally, trailer-mounted hydrovacs can work in tandem with traditional yellow iron equipment. The trailer-mounted hydrovac machine is ideal for initial ground penetration to locate utilities and identify depth before utilizing a trencher or backhoe to then work around these points.
Precision
Unlike traditional heavy equipment such as backhoes and trenchers, a trailer-mounted hydrovac offers a level of precision not found in other units. Handgun features and booms are designed to provide exact locating with the high-pressure water system, leaving the environment around the jobsite untouched. Not only do these features allow for the job start to be more efficient, but it also reduces the time required for site restoration as only the necessary area is disturbed.
Diverse Applications
Due to their size, power, and functions, trailer-mounted vacuum machines and hydrovacs are ideal for a range of applications. Combination trailer-mounted machines are used for laterals and trough clean-outs, filter-bed cleaning, treatment plant housekeeping, manhole cleaning, utility locating, sewer line cleaning, culvert and drywell cleaning, potholing and short horizontal boring, spill response, flood clean up, waste recovery, and daylighting. Hydrovac trailer-mounted units are ideal for daylighting, potholing, utility and telecommunications excavation, and oil and gas industry remediation. High pressure jetter trailer-mounted units are most often used for sewer and storm drain jetting and blockage removal.
Vac-Con Offerings
Vac-Con introduced trailer-mounted options to the portfolio in 2012 with the acquisition of Vector Technologies, LLC. Today, the Vector product line is marketed alongside the Vac-Con truck-mounted units with the Neptune™ Combination Machine, Mudslinger Hydrovac, and VecJet Jetter Machine.
Vac-Con understands the importance of having options, while providing the most reliable and durable equipment in the industry.
Contact us today to learn more.
Categorised in: Uncategorized
This post was written by Vac-Con