Safety & Hydro Excavation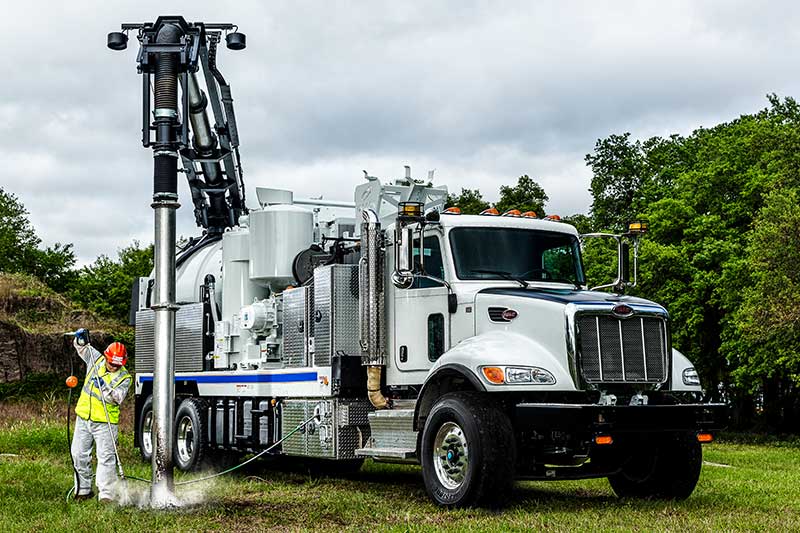 Vacuum and hydro-excavating boasts a range of benefits for those operating in the water, utility, electric, and construction industries due to its precision and efficiency. These powerful machines have evolved the way that we do work in a variety of industrial sectors. However, just as in all fields of work, it is vital to have a strong understanding of the equipment, how it functions, and the safety precautions to take when using it.
Vacuum & Hydro-Excavation Safety Tips – Training
Take Advantage of Trainings from Experienced Professionals
Both original equipment manufacturers (OEMs) and equipment distributors often host machine trainings to ensure that users are acquainted and comfortable with the functions of the equipment. Take advantage of these opportunities, which are led by those who have either built the product or worked with it for years. These types of hands-on trainings are the most effective way to learn how to use the machines.
Online Trainings
If you aren't able to attend a live training, most manufacturers and distributors also provide online training courses to cover the basics of the machines. Though not as hands-on as live training with experienced users, this is a great way to become comfortable with the functionality of the machine. Plus, you can always refer back to the online training for refresher courses.
Equipment Manuals
Every machine should come with a comprehensive product manual that outlines everything from how to perform basic maintenance to machine component operation. Manuals are created by the OEM, and will detail the safest, and most efficient manner to maintain and utilize the machine. You should refer to it often. Even if you have an idea of how something should be done, it's always best to confirm those assumptions against the manual.
Vacuum & Hydro-Excavation Safety Tips – On the Jobsite
Best Practices
In the planning stages of your project, discuss your company best practices and safety procedures that all workers should follow to mitigate the risk of an accident occurring. Ensure all workers are on the same page, and understand the protocols before they step onto the jobsite. This should also include the supplying and donning of Personal Protective Equipment, which is a simple tool to avoid the most common types of jobsite incidents.
Know Your Jobsite
One of the first steps you should complete as you prepare your jobsite is to call 811 to identify the location of all underground utilities. This step is critical prior to beginning your excavation work. Utilize a certified utility locator if you don't have one to document the utilities exact location and depth. According to the Common Ground Alliance 2016 DIRT (Damage Incident Reporting Tool), there were over 300,000 excavation incidents in North America alone, the majority caused by non-sufficient excavating practices and not identifying the location of utilities prior to excavation. It may sound cliché, but don't be a statistic!
Source: http://commongroundalliance.com/media-reports/dirt-reports
Properly Mark the Jobsite
Once you have located the utilities pre-excavation, mark off your jobsite per your company best practices and educate all workers prior to starting work on the meaning of the markers. If your jobsite is accessible to or amongst public access, place the appropriate signage to inform them of the jobsite, and precautions to take.
Proper Equipment Utilization
Selecting the correct equipment and accessories for the job is crucial to not only project completion, but also to decrease the occurrence of worker injuries or utility damage. Test and confirm your nozzle and lance to ensure it can work the soil as necessary. Keep water pressure in mind as your begin your job – make sure it's enough to break through debris, but not too high to hinder user functionality.
Vac•Con®
We offer the highest quality and most durable combination sewer cleaners, industrial vacuum loaders, and hydro-excavation machines on the market. Our goal is to build the best machines for your projects, always providing MORE POWER TO YOU.
Vac•Con® offers onsite quarterly machine and maintenance trainings as well as an online training course. For more information contact your dealer or us at 888•920•2945, or for international callers at +1•904•493•4969.
Categorised in: Hydro Excavation, Information
This post was written by Vac-Con