Hydro Excavation
Vac-Con® Cuts Through Tough Excavating Problems Without Cutting Through Wires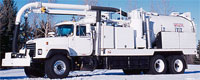 Our high power and high-efficiency Hydro-Excavation machines make even the toughest excavating jobs easy and safe. Designed to power through all kinds of difficult terrain including frozen or unfrozen ground, Vac-Con® Hydro-Excavators deliver more power to you®.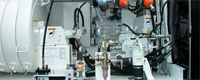 These non-destructive hydraulic excavating machines use pressurized water and a vacuum system to dig precisely and make visual identification of existing underground utilities like gas lines, fiber optics, T-1's, etc., so they can be easily avoided. Our Hydro-Excavating machines reduce the time on the job by eliminating delays caused by cutting unexpected wires or cables. And it's much safer than mechanical excavation methods.
Vac-Con®'s Hydro-Excavator gives you the power for safe, nondestructive digging for municipalities, utility companies, and contractors.
Hydro Excavator
The Hydro Excavator is designed specifically for the job and can handle the toughest and most challenging excavating jobs. Based on our combo machines, the Hydro Excavator is powerful, durable and easy to operate. And like any Vac-Con® machine it is fully loaded with standard features and the industries best safety features.
Hydrostatic drive

Using the Vac-Con® chassis engine with hydrostatic drive for the vacuum is a more efficient system because it's less complicated and eliminates the need for cumbersome PTO, clutch and gearbox operation. It will allow the operator to focus on getting the job done. We don't believe that you should have to work hard to make the machine work hard!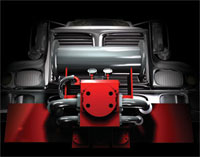 Water systems up to 4,000 psi
Mobile wireless remote

Has more functions than anyone else in the industry!
Vac-Con®, Inc. offers a wireless remote control system that enables the operator to work the following functions from remote areas (up to 1/2 mile away): chassis engine rpm, boom up, down, right, left, in, & out, automatic vacuum breaker operation, dump controls up, down and hydraulic door locks.
The remote system is a skip frequency design that eliminates any type of interference with municipal or military single channel radios, cell phones, and other electronic frequency devices.

Boom rotates up to 270°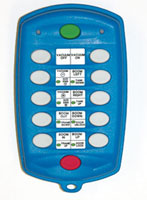 From 5 to 16 yard Corten® steel debris tanks

All Vac-Con® debris tanks are made of Corten® steel, a high strength, low-alloy steel developed and proven in vacuum loader applications to resist corrosion and abrasion. The debris tank door is securely fastened by hydraulic door locks and is controlled from the side of the truck for optimum safety and it is backed by a five-year warranty.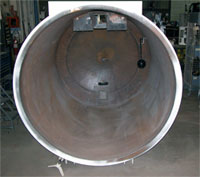 Automatic vacuum breaker shut off

A full indication activates an automatic vacuum breaker shut down system that completely shuts down 100% of the airflow to the vacuum system to prevent body overfilling and wastewater discharge into the atmosphere.
The vacuum breaker system is automatically activated (closed) when the parking brake system is released to eliminate carryover during transit.
The system is also controlled, activated, at the front hose reel control station and pendant control. This enables the operator to pick up large debris with the boom and place it on the road surface. This system is used for safety in the event suction must be shut off in case of an emergency.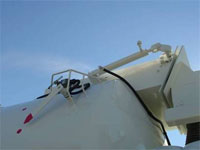 Full opening rear door
Hydraulic door locks
2 or 3 stage centrifugal compressor, PD Blowers also available

Vac-Con®'s unique 3-stage compressor simply loads faster than any other fan on the market. Increasing both vertical and horizontal pull, this powerful system makes even the toughest jobs like underwater vacuuming possible and is backed by a five-year warranty.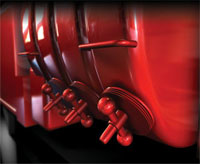 Dual stainless steel micro strainers & centrifugal separator with clean out
650-1500 gallon water tank capacity

Constructed of durable cross-linked polyethylene, these tanks won't deteriorate from the elements either inside or outside the tanks. We are so confident we offer a standard ten-year warranty.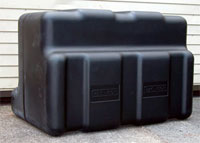 Triplex Water systems rated at 10 GPM – 50 GPM or higher and 2,000psi – 3,000psi
Front loading boom, from 6′ to 10′ extension

Telescoping Boom with a Vac-Con®, the boom rotates 270° and telescopes up to 6 ft. or 10 ft.
Vac-Con®'s 10 ft. boom provides the longest extension in the industry!