Vac•Con® One Touch Service Packages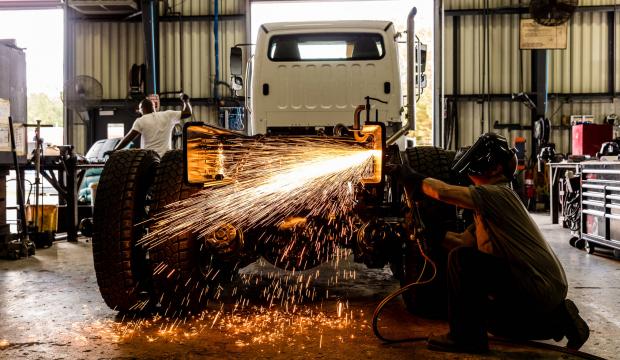 As a leading manufacturer of industrial vacuum and hydro-excavation machines, Vac•Con personnel are experts in the industry. With this expertise comes the skills and knowledge to not only build these powerful machines from the ground up, but also to provide best-in-class technical service and support.
Your machine is an investment, and here at Vac•Con we understand the importance of maintaining its operational functions and capabilities in like-new condition. For this reason, we offer three levels of service packages designed to equip you with refurbishment options for when 'old faithful' needs a face-lift.
The Bronze Package
The Bronze Service Package provides what is considered the minimum offering for machine upkeep and refurbishment. This package includes the following services:
Washing and Degreasing of Unit
DOT Inspection
Vac•Con Service Inspection
Replacement of:

In-Out Seals
Rear Door Seal
Vacuum Breaker Door Seals
Telescopic Boom Seals
Reed Valve Rubbers
Rear Door Plate
All Kanaflex Suction Hose and Power Clamps
Mud Flaps
Hose Ends
Water Pump Suction Strainer and Gasket
Hydraulic Tank Suction Strainer
Hydraulic Oil
All Ball Valves
Hydrostatic Pump Belt
Rotary Union

Change All Vac•Con Oil Filters
Lubricate Unit
Change Water Pump Oil
Install Water Pump Packing
Install Complete Decal Package
Change Oil in Split-shaft PTO
Change Positive Displacement Blower Oil
Change Auxiliary Engine Oil & Filters
All Components Readjusted to Factory Specifications
The Silver Package
The Silver Service Package is our mid-level offering and includes all of the services of the Bronze Package plus the following:
Replacement of:

Hose Reel Bearings
Hose Reel Pivot Pin and Bushings
Blower Bearings
Auxiliary Engine/Water Pump Drive Bearings
Boom Elbow
Lay-flat Hose
Fill Hose
Water Pump Suction Hoses
Blower Coupler
Water Pump Check Valves
Water Pump Drain Valves
Throttle Cables
Handgun Relief Valve

Rebuild High Pressure Relief Valve
The Gold Package
The Gold Service Package is our premium-level offering and includes all of the services of the Bronze & Silver Packages plus the following:
Rebuild blower
Complete Water Pump Rebuild
Complete Paint – Chassis & Cab
Replacement of:

Water Pump Belts
Water Jet Hose
Blower Belts
Lower Drive Bearings
Front Driveline
Vac•Con One Touch Service provides MORE POWER TO KEEP YOU WORKING. For more information on our service programs,
contact the team at 888-920-2945. International inquiries please contact us at +1-904-493-4969.
Categorised in: Information
This post was written by Vac-Con