Vac•Con Launches New Interactive Site Featuring 360° Machine Tours & Images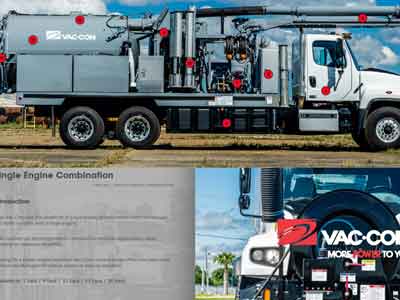 Vac•Con® announced today that it has officially released the all-new EXPLORE VAC•CON interactive website.
Currently, the Dual Engine Combination Machine and Single Engine Combination Machine are available for 'touring.'
"EXPLORE VAC•CON has been a goal of ours for over a year," said Bryce Rieger, National Sales Manager. "The idea behind this program was to bring the machines directly to the customers – anytime, anywhere. This tool, used in conjunction with other refreshed marketing resources, will provide our dealers and end-users with a thorough overview and understanding of the machines that we build. We are proud to be the company that we are and to build the machines that we build. This program dives into all components of our business, and we are excited about what it will bring to users."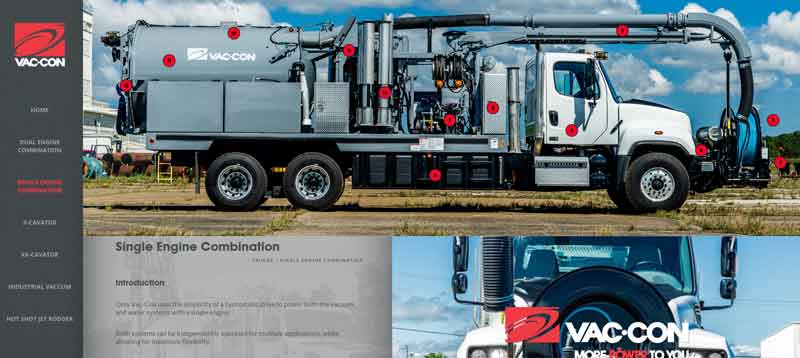 Future phases of EXPLORE VAC•CON will include tours for the Titan™ Dual Engine Combination Machine, X-Cavator™, XX-Cavator™, and the Hot Shot Jet Rodder. EXPLORE VAC•CON can be found on the homepage of the Vac•Con website and is compatible with desktop and mobile devices.
In addition to EXPLORE VAC•CON, the company recently released an updated version of its website as well as new literature for its primary product portfolio, all designed to create both a digital and print experience for customers wanting to know more about Vac•Con.
You can visit the new EXPLORE VAC•CON site here: https://vac-con.com/salesadvantage/
About Vac-Con®
Since 1986, Vac-Con® has manufactured more than 8,000 custom-built, truck-mounted machines to serve public and private environmental markets worldwide. Our goal is to design and actualize the most powerful and reliable machines in the industry, taking care of our customers' needs now. Our global dealer network assists us in reaching all corners of the world, ensuring More Power To You. For more information, visit www.vac-con.com.
About Holden Industries, Inc.
Holden Industries, Inc. is an employee-owned corporation headquartered in Deerfield, Illinois. As the parent organization of a group of diversified manufacturing companies, Holden is dedicated to profitable growth through capital efficient reinvestment and strategic acquisitions. Holden strives to continuously improve the operational performance of all disciplines with its principle focus of identifying the needs of its customers, and developing innovative and cost effective products and services to meet those needs. For more information, visit www.holdenindustriesinc.com.
Vac-Con is a trade name of Holden Industries, INC.
For further information, please contact:
Caroline Brown
Marketing Specialist
Vac-Con
Tel 1+904-529-1317
cbrown@vac-con.com
Categorised in: News
This post was written by Vac-Con