Vac-Con: Employee-owned local company honored for long-term contributions to manufacturing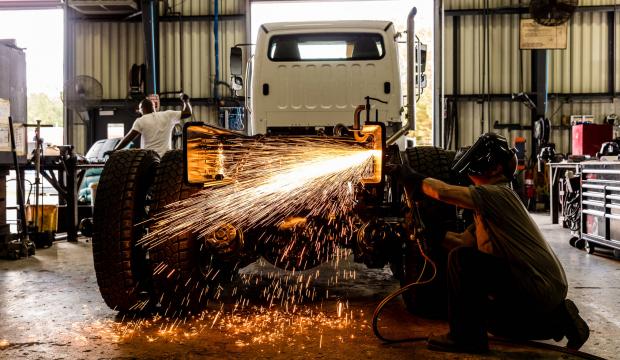 Mike Rowe once said, "The world is full of very happy septic-tank cleaners and miserable investment bankers."
Rowe, former host of "Dirty Jobs" and advocate for skilled labor impressed with the team at Vac-Con, headquartered in Green Cove Springs. The company manufactures sewer trucks and hydro-excavators, used all over the world.
Also owned and operated by more than 300 dedicated, hard-working employees.
Established in 1986, Vac-Con recently honored with the Founders Service Award by the First Coast Manufacturers Association. The award recognizes FCMA members demonstrate a long-term commitment to improving the economy, environmental protection and workforce education.
More than 7,900 of its truck-mounted machines are in use. All built exclusively at its 160,000-square-foot facility in Green Cove Springs.
Company personnel, from president Darrell LeSage on down, consider it a family environment.
"We're thankful to all of our employees, those dedicated to making Vac-Con what it is today," said LeSage in a statement.
Vac-Con is 100 percent employee-owned, and LeSage feels the company's Employee Stock Ownership Program is perhaps the strongest component of the work environment. Not only is it a major incentive to control costs by all employees, but such a plan allows Vac-Con to give employees a stake in the companies future growth and reward them for performance, all while attracting and retaining a motivated staff.
The family atmosphere is sometimes literal, as in the case of twin brothers Calvin and Kevin McCarter.
Kevin McCarter joined the company 10 years ago, after working in the construction industry. When the building business bottomed out due to the recession, he saw an opportunity to come on board with Vac-Con.
"I work in the front office now, as a process control clerk," said Kevin McCarter. "They have a real organized system here for moving up to other jobs. It's a great thing to have."
Five years later, Calvin McCarter became a Vac-Con employee. He currently works as a lead operator on a Prima laser cutter, a computerized system for cutting steel and aluminum.
"It's cool using the laser, cutting out all the different parts," Calvin McCarter said. "I really enjoy seeing how many different things you can make."
Both men praise the personal and professional support the company provides.
The workforce education component is a big part of Vac-Con's selection for the Founders Award. According to its nomination materials, the company has always believed in the value of educating its workforce. Through a variety of local organizations, including the FCMA, Ring Power, UNF, Lean Consortium, ASE, ASQ and others. Employees enrolled in training programs that range from fundamental electrical and mechanical training to a master's program in electrical engineering. Basic sales training and supervisory skills to sophisticated training in management and leadership are also provided, along with introductory to advanced Six Sigma and Lean training.
Many Vac-Con employees actively engaged in mentoring high school and technical school students about careers in manufacturing. Additionally, the staff engages with local schools to promote manufacturing opportunities, with one employee being recognized as "Mentor of the Year" for the Clay County "Take Stock in Children" program.
Off the clock, some Vac-Con employees continue giving back to the community, most recently in the aftermath of Hurricane Irma. From Key West to Jacksonville, Vac-Con trucks used for local governments, removing water and storm debris, but a few performed individual acts of heroism.
There's Vac-Con employee Hugh Hunnicutt, who deployed with the Florida National Guard to assist with storm cleanup efforts in Marathon, and Chad Mullin, who helped rescue an elderly woman's husband and their dog from a burning house.
Nancy Davis, marketing assistant for Vac-Con, created a PowerPoint presentation about their selfless efforts that can currently seen on digital signage throughout the facility.
"We use CoolSign monitors in all the breakrooms and around the plant," said Davis. "Whenever we have photos showing 'Vac-Con in action' or one of our employees does something really special. I created a presentation to show how proud we all are."
Vac-Con and other local manufacturers honored during an awards banquet on Sept. 29 and a special section profiling all the winners appears in Sunday's Florida Times-Union. October is National Manufacturing Month, so it's fitting that these companies become recognized at this time.
According to the National Association of Manufacturers (NAM), attracting and retaining quality workforce is second-most pressing business challenge among industry leaders. Indeed, in a 2015 report, "The skills gap in U.S. manufacturing," NAM predicted that an estimated 2.7 million jobs become likely needed as a result of retirements of the existing workforce by 2025. While 700,000 jobs become likely created due to natural business growth over that same period.
Article From Jacksonville.com: http://jacksonville.com/2017-10-13/vac-con-employee-owned-local-company-honored-long-term-contributions-manufacturing
Tags:
Awarded
,
Business Growth
,
Long-term
Categorised in: News
This post was written by Vac-Con