Sewer Jetting & Sewer Flushing Trucks
Why it is Important to Flush Sewers Regularly
Sewer systems need regular cleaning, especially during storms when an abundance of debris tends to collect in sewer drains. Sewer line cleaning uses high-pressure water nozzles to effectively flush out dirt, litter, sludge, and any other form of garbage from pipelines.
The sewer flushing process is performed by professionals who are trained to properly operate the machines and deal with any issues that may arise.
Why It Must Be Done: City maintenance organizations regularly perform maintenance of flushing sewers to ensure that the sewage system functions reliably. In many cases, sewer systems may be over a century old and will need regular cleaning and maintenance work to keep them in working condition.
What to Expect When Sewer Cleaning Work is in Progress: A sewer truck is utilized to service several miles of pipelines that run underground. These may be exclusive jetting or vacuuming trucks or a combination of the two systems.
Jetting releases water at high pressure to dislodge dirt and debris and flush it into containment vessels. Vacuuming uses a system of air-based pressure to suck out dirt and collect it for disposal. Combination sewer cleaners employ both of these systems; the water removes the dirt and the vacuum sucks it up.
Sewer lines in a city are cleaned primarily block by block. The process is handled by experts who man the machine and ensure that the process is functioning efficiently. This is especially applicable in combination cleaning trucks; one person mans the jets and the vacuum, while another is positioned at the end of the pipeline being cleaned. He will indicate when the water nozzle has reached the end of the pipeline or if there is an obstruction in the way.
A clean neighborhood is often a collective effort between the residents and the maintenance organizations. Residents are encouraged to work with these sewer maintenance crews in preventing the collection of debris.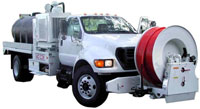 The Best Machine for the Job
Vac-Con®'s Hot Shot high-pressure water vac jet machines are ideal for removing stones, bottles, cans, grease, sludge, and other debris from sanitary sewer and/or storm drain lines by the flushing action of high-pressure water.
Hot Shot machines are equipped with a self-contained, non-corrosive, non-metallic water tank and can be operated by one man, with all operating controls for high-pressure water, hose reel, located at the front of the machine for ease of operation and more safety.
Hot Shot Sewer Jet Features
Font Mounted Hose Reel, 600′ x 1″ Capacity
Polyethylene Water Tank

Constructed of durable cross-linked polyethylene, these tanks won't deteriorate from the elements either inside or outside the tanks. We are so confident we offer a standard ten-year warranty.

30 gpm/3000 psi Water Pump System
Auxiliary Engine or Hydrostatic Drive

Vac-Con®'s unique 2-engine design uses the chassis engine to drive the vacuum where you really need the power. And the auxiliary engine for the water system delivers continuous, complete water recirculation when you're in motion or resting. This 2-engine design allows the convenience of truly independent vacuum and water system operation.



1000/1600 Gallon Fresh Water Tank
Hose rewind guide
600 psi Hand gun system with 25′ of hose & nozzle
1) each Sanitary and Penetrator nozzles
ICC Lighting
DuPont Imron 5000 Paint
12 Month Standard Warranty
Articulating Hose Reel optional

The Vac-Con® articulating hose reel articulates 180° allowing operator to work in any position throughout this arc. This allows greater flexibility in truck placement for manholes located in tough areas and provides greater safety to the operator.
The reel can extend beyond the width of the vehicle for allowing positioning over offset manholes, catch basins, etc.
The reel is supplied with a hydraulically controlled outrigger leg that comes in contact with the ground for added stability.
The reel can be supplied with either a pivot to the driver's side or passenger side of the unit.
Standard Equipment Includes:
1000 gallon capacity polyethylene water tank
600′ capacity front mounted hose reel
30 gpm/3000 psi water pump system
Auxiliary engine water pump drive
400′ high pressure sewer flushing hose
Hose rewind guide
Hose guide (Tiger Tail)
30′ leader hose
600 psi wash down hand gun with 25′ of hose and nozzle
1 each) sanitary and penetrator nozzles
ICC lighting
DuPont Imron 5000 polyurethane paint
12 month standard warranty
Standard Equipment Includes:
1600 gallon capacity polyethylene water tank
600′ capacity front mounted hose reel
30 gpm/3000 psi water pump system
Auxiliary engine water pump drive
400′ high pressure sewer flushing hose
Hose rewind guide
Hose guide (Tiger Tail)
30′ leader hose
600 psi wash down hand gun with 25′ of hose and nozzle
1 each) sanitary and penetrator nozzles
ICC lighting
DuPont Imron 5000 polyurethane paint
12 month standard warrant