Vector Trailer-Mounted Units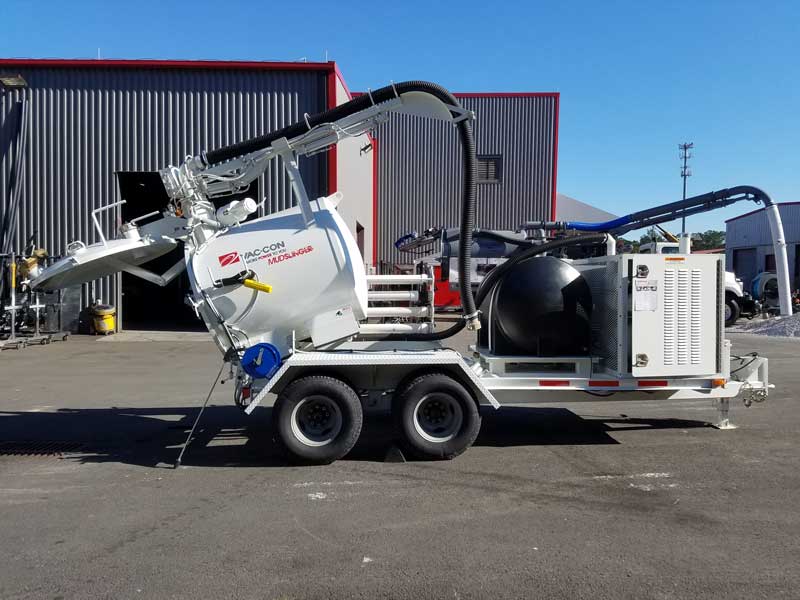 Portable yet Powerful: The Benefits of a Trailer-Mounted Machine
When people think of Vac•Con® they usually envision one of our large, truck-mounted machines that are the easiest to spot in the field. Though truck-mounted machines are where we got our start, we are now a game-changer in the realm of trailer-mounted units.
In 2012, Vac•Con acquired Vector Technologies, Ltd., a well-known and celebrated manufacturer of trailer-mounted equipment with over 40 years of experience. This acquisition expanded our product portfolio and customer base.
Trailer-mounted machines are a great option for a range of users and projects. Don't think that just because you will need a vacuum or hydro-excavation machine that you will have to look into a truck-mounted option. Trailer-mounted is becoming the way to go for many users.
Below are several benefits of trailer-mounted units, and roles that they can play in the field.
Ideal Projects
Urban Areas

The size of trailer-mounted units is ideal for use on jobsites located in small, confined areas usually seen in populated, urban areas. Operators are able to function at full-capacity without causing additional disruption in the area.

Waste Water

Trough clean out
Filter-bed cleaning, sand, or carbon
Treatment plant housekeeping

Water Departments

Manhole cleaning
Valve box cleaning and straightening
Utility locating
Meter box cleaning and relocation
Valve box and catch basin cleaning
Carbon filtration change-outs, filter-bed cleaning

Storm Water Departments

Culvert cleaning
Drywell cleaning

Electrical Departments

Drilling mud recovery
Potholing and short horizontal boring
Transformer vault cleaning
Underground switch vault cleaning
Underground utilities locating

Emergency Response

Spill response
Floor cleanup
Waste recovery

Grounds, maintenance, traffic, and sign

Digging and locating without damage to utilities
Wash bay cleanup
Fence and post hole digging
Street sign installation
Tree planting and other landscaping
Wet slurry recovery from saws and jackhammer
The Perks
Size

Clearly trailer-mounted units are a fraction of the size of truck-mounted options. This compactness fosters a range of perks including compatibility to work on confined, tight jobsites (think urban areas) and easiness of transportation and relocation.

Resource Management

Trailer-mounted units have the option to discharge material directly into a dump truck, dumpster or container, allowing you to stay on the job without needing to clear a debris tank.

Economical

Trailer-mounted machines are less expensive than their truck-mounted counterparts, which require a truck chassis and wide range of components. Trailer-mounted units are also efficient on the jobsite, though their debris tanks are a smaller size.
Portfolio
Vac•Con offers the following product portfolio, manufactured by Vector Technologies, Ltd.
Mudslinger™ Trailer-Mounted Hydro-Excavation Machines
Neptune™ Trailer-Mounted Combination Machines
VecJet™ Trailer-Mounted Jetter Machines
VecLoader® Trailer-Mounted Industrial Vacuum Loaders
Vac•Con®
We offer only the highest quality and most durable equipment in the way of truck and trailer-mounted combination, hydro-excavation, industrial vacuum loader, and jetter machines. Our goal is to offer the best machines for your projects, always providing MORE POWER TO YOU. For questions, please contact us at our local number 888-920-2945, or for international inquiries at +1-904-493-4969.
Categorised in: Information
This post was written by Vac-Con