Harnessing the Power of a Vacuum Truck
A vacuum truck is specially designed to pump excess liquid waste from catch basins, septic tanks, oil spills, and similar places. Commonly used for commercial as well as residential purposes, vacuum trucks not only carry out industrial waste material clean-up jobs but also perform waste removal jobs for municipalities which include street sweeping, sewer cleanup and much more. These vehicles used for suctioning, transporting, and disposal of toxic and non-toxic materials and to pump anything from domestic septic tanks to contaminated soil.
What are Vacuum Trucks used for?
Suctioning of Materials – Vacuum trucks mainly engineered for removing wet and dry, industrial waste. This vacuuming/suctioning is either high-velocity or low-velocity air suction used for removing solid, liquid, and frothy or sludge materials. Some other usage of vacuum trucks include removal of brine water, cleaning oil spills, septic tanks and congested drainage systems.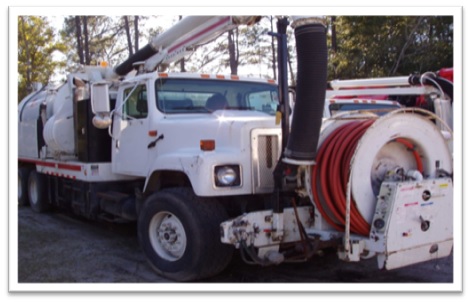 Transporting Materials – The Environmental Protection Agency (EPA), US, encourages using vacuum trucks for transporting bio-solids due to their spill prevention and odor control abilities. These features curb the exposure of the hazards involved in these materials, for a healthier environment.
Disposal of Waste Materials – Some of the waste introduces potential health threats in the environment. Vacuum trucks are, thus, deployed for the disposal of such waste materials, thereby reducing environmental impacts.
With the increasing demand for vacuum trucks today, pre-owned and used vacuum trucks are the most popular choices than ever. Here are a few things you must consider before buying a vacuum truck on sale.
Before buying a used vacuum truck, it is important to analyze your budget. A proper budget will help you determine the kind of vacuum truck to fit your needs.
If you're buying a new vacuum truck, you need to check for the warranty terms and support available. Fill out important paper work before hand.
If buying used vacuum trucks, check all the service records, and examine them thoroughly before you purchase them. If they aren't available, immediately rule out buying the vehicle.
Once you've identified the equipment that meets your requirement, inspect it yourself, or hire a mechanic who can inspect the machine, before accepting delivery.
Make sure that you or a trusted mechanic physically operates the machine, ensuring that each component is in working condition. Also, evaluate the chassis, check if there is rust or damage.
Tags:
Vacuum Truck
Categorised in: Uncategorized
This post was written by Vac-Con