We design every product with more ease of operation in mind by integrating important extras including…
Hydrostatic Drive

Using the Vac-Con® chassis engine with hydrostatic drive for the vacuum is a more efficient system because it's less complicated and eliminates the need for cumbersome PTO, clutch and gearbox operation. It will allow the operator to focus on getting the job done. We don't believe that you should have to work hard to make the machine work hard!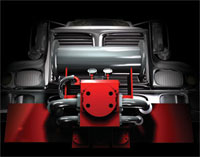 Wireless remote

Vac-Con®, Inc. offers a wireless remote control system that enables the operator to work the following functions from remote areas (up to 1/2 mile away): chassis engine rpm, boom up, down, right, left, in, & out, automatic vacuum breaker operation, dump controls up, down and hydraulic door locks.
The remote system is a skip frequency design that eliminates any type of interference with municipal or military single channel radios, cell phones and other electronic frequency devices.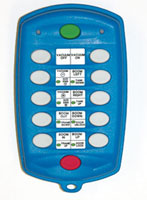 Telescoping boom up to 10″, 270 degrees rotation

With a Vac-Con®, the boom rotates 270° and telescopes up to 6 ft. or 10 ft.
Vac-Con®'s 10 ft. boom provides the longest extension in the industry
Electro Magnet

The foot of the outrigger leg will be equipped with an electro magnet capable of lifting manhole covers, grates, etc. Utilizing the articulating hose reel controls up/down of the outrigger leg and the 180 degree articulation the magnet can be positioned and moved to provide an effective manhole cover removal system. Once the magnet is lowered onto the manhole cover the magnet is then activated on and off by an electric switch. The electro magnet assembly will be capable of picking up manhole covers, etc. up to 500 lbs.