We ensure Vac•Con® machines have an unmatched durability and resist the worst wear and tear by using only the highest quality materials.
Corten® steel body and compressor parts

All Vac•Con® debris tanks are made of Corten® steel, a high strength, low-alloy steel developed and proven in vacuum loader applications to resist corrosion and abrasion. The debris tank door is securely fastened by hydraulic door locks and is controlled from the side of the jet vac truck for optimum safety and it is backed by a five-year warranty.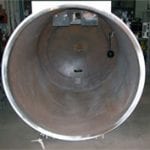 Protected hose reel and drive components
Deflector shield in debris body

Cross-linked polyethylene water tanks

Constructed of durable cross-linked polyethylene, these tanks won't deteriorate from the elements either inside or outside the tanks. We are so confident we offer a standard ten-year warranty.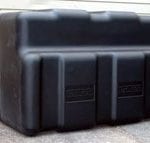 Welded fan components

Vac•Con®'s unique 3-stage compressor simply loads faster than any other fan on the market. Increasing both vertical and horizontal pull, this powerful system makes even the toughest jobs like underwater vacuuming possible and is backed by a five-year warranty.