Vac-Con Combination Sewer Cleaner
The Vac-Con Combination Sewer Cleaner designed with the operator in mind. By listening to real customer experiences and needs, this combination machine makes cleaning sewers a simplified process, while offering the reliability and safety the industry needs.
The front-mounted hose reel includes an automated hose rewind guide, the Power Guide™, for operational ease. The operating controls are also in the front; the panel is easy-to-use and eliminates dual control requirements.
The high-capacity water pump allows for a variety of choices in pressure and flow. The user-friendly pump system is available with purge, reliefs, and front drain lines. A lubrication chart is provided for service ease.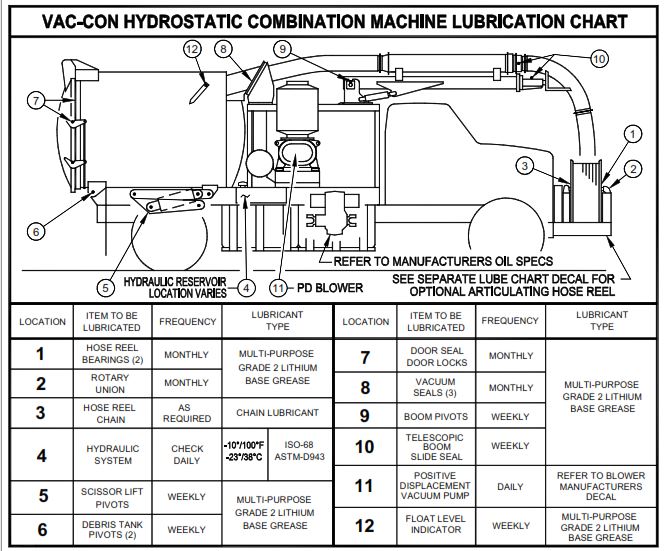 The combination machine also features a 3-stage centrifugal compressor with 27-inch Corten steel fans. The 2-engine design provides independent control of the vacuum and water systems. A centrifugal separator clean-out included. The Vac-Con system allows for faster loading by providing up to 200-inch (H2O) of vacuum. Therefore, the design provides for vacuuming underwater without the use of air gap attachments.
The water tanks manufactured with cross-linked polyethylene (PEX) for increased durability. Internal and external elements will not deteriorate the tanks. Vac-Con backs the tanks with a ten-year warranty. The debris tank resists abrasion and rust with the use of Corten steel. In addition, the tank door is fastened securely with hydraulic locks, controlled from the side of the truck, for increased safety. Therefore, the debris tank is covered with a five-year warranty.
Safety features include an automatic vacuum breaker to prevent overfill and atmospheric discharge, emergency shutdown, hydraulic interlock, low water alarm and light system. Also, reflective striping, strobe lights, and International Code Council (ICC) lighting provide increased safety.
The Combination Sewer Cleaner is available in 3.5, 5. 9, 11, 12 and 16-yard capacities. Additionally, standard features include a butterfly drain valve and hose, external load indicator, 270-degree hydraulic boom with transport cradle and weather resistant lockable toolboxes. Options include a 6 or 10 foot telescoping boom, wireless remote, articulating hose reel, hydrostatic drive, hydraulic pump-off and positive displacement blowers.
Tags:
Combination Machine
,
Sewer Cleaner
,
Vac-con Combination
Categorised in: Uncategorized
This post was written by Vac-Con